2012 Joseph Phelps Vineyards Insignia Estate Grown Napa Valley
317 Ratings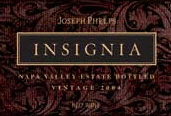 317 Ratings
2012 Joseph Phelps Vineyards Insignia Estate Grown Napa Valley
Winemaker's Notes
(From 2010 Vintage) The 2010 Insignia is striking. Cool, mineral notes frame a core of blue and black fruit, licorice, spices, smoke, and melted road tar as this stunning wine opens up in the glass. Totally alive in the glass, the 2010 captures the essence of this cold, late harvest. Hints of menthol, violets and crushed rocks all flow through to the incisive, vibrant finish.
Shipping Information
Free shipping with a purchase of 12 bottles or more.
Free shipping with a purchase of 12 bottles bottles or more.
(From

2008

Vintage) Rating: 97/100 - As reviewed by Robert Parker on 12/16/2011

(From

2008

Vintage) "The blend of the 2008 Insignia, 89% Cabernet Sauvignon, 7% Petit Verdot and 4% Merlot, is not terribly different from the 2007. However, I suspect the production will be a lot less given the frost damage in early spring. The color is an inky/purple and the wine shows lots of cassis, blueberry, graphite and floral notes, good acidity, stunning concentration and purity, and a long finish. Another great success for Phelps, the 2007 and 2008 Insignias may be the best back-to-back vintages they have ...

Connoisseurs' Guide to California Wines

(From

2001

Vintage) 8% Petit Verdot; 3% Malbec. Far and away the more polished of the two showcase bottlings from Phelps, this year's Insignia is simply bursting with well-extracted curranty fruit and is, from its first sniff through to its very long finish, a luxuriant wine that is layered with gorgeous oak. It claims different territory than its sturdier partner below, and it achieves a real sense of elegance without sacrificing richness or size. It is so finely balanced that it almost tempts drinking now, but its...